It is a common observation – supported by the likes of the World Bank and the United Nations – that incorporating resilience into communities after a natural disaster helps prepare them for future catastrophes. This is known in the jargon as 'building back better'.
Investors and asset managers serious about addressing the UN Sustainable Development Goals (SDGs) are already thinking about how the world can 'build back better' after the pandemic and how long-term capital can best effect change. There are, after all, less than 10 years to go before the 2030 target for the fulfilment of the goals.
It is clear that the pandemic has revealed serious weaknesses in the health- care systems of some western countries; the challenges in developing countries are manifestly more acute and this is only likely to become more apparent as this crisis rolls on.
The March 2020 UN report titled 'Shared Responsibility Global Solidarity: Responding to the Socio-economic Impacts of COVID-19' states that the coronavirus crisis is affecting all the SDGs. It also suggests that time and money has not been well spent pre-COVID in addressing areas like healthcare. As the report states: "Had we been further advanced in meeting the Sustainable Development Goals and the Paris Agreement on Climate Change, we could better face this challenge – with stronger health systems, fewer people living in extreme poverty, less gender inequality, a healthier natural environment, and more resilient societies."
The UN report also highlights the potential future opportunity cost if attention is diverted away from climate change. It notes that "a prolonged global economic slowdown will adversely impact the implementation of the 2030 Agenda for Sustainable Development and the Paris Agreement on Climate Change".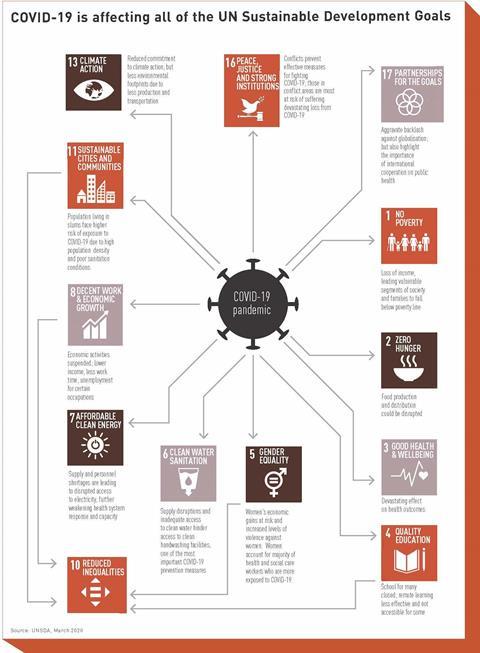 Capital that could address climate change by investing in innovation and transition is likely to be held back, diverted to more pressing areas, or not available at all.
Dirk Meuleman, CEO of Phenix Capital, sees the COVID crisis as a spur to action for the impact investment sector. In an interview with IPE, he says that the crisis could end up boosting the impact movement in general: "We see the need for collective action; we see the cost of externalities becoming very visible; we see the need for investing in medicine development."
What needs to change? The UN report suggests regional coordination to direct institutional capital to sustainable investments and a "special COVID-19 Taskforce to engage companies in a regional response". There is also the need to promote private sector investment and R&D capacity to accelerate techno- logical and medical research and innovation.